2 & 3 Day Classic Kayaking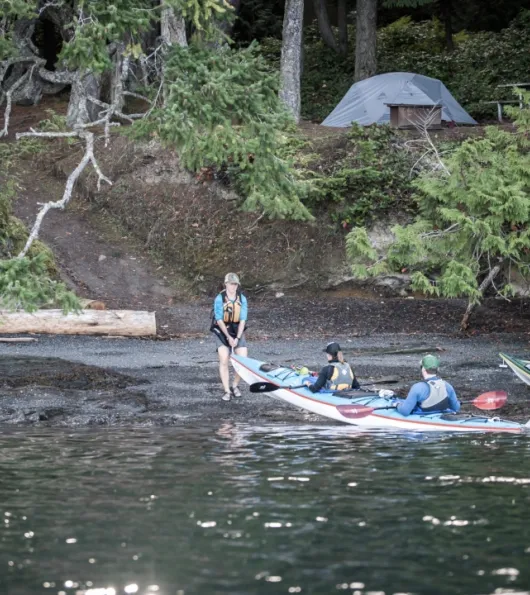 Our Classic Itinerary is a guide and guest favorite!
Explore the San Juan Islands by sea kayaking to Stuart Island
It's easy to see why our Classic Itinerary is a guest and guide favorite. With several routes to choose from, guests are able to choose the trip that is right for their experience level and interests. Final itinerary is at the guides discretion based on water conditions, weather, & guest ability.
Paddle to Stuart Island, Jones Island, or both on this two or three day trip that highlights all that the San Juans have to offer. The Classic Itinerary can begin in either Roche Harbor or Friday Harbor. Paddle to one island for one or two nights of camping, or if you're your looking to maximize your paddling, spend one night on each island as you hop across the archipelago.
Contact Us For Reservations!
All guests paddle in double or triple kayaks with all the gear for your adventure packed into the sea kayak upon departure. Gear is not motor-boated to the campsite prior to departure. We use triple kayaks as doubles on overnights and pack larger gear items into the middle seat. We use expedition-style Northwest Kayaks that are very stable and easy to steer using a foot peg rudder system. 
Multiday kayak tours can expect to paddle 12-15+ miles per day. 
Please note that fully loaded sea kayaks can be heavy, and feeling fatigued and/or sore after a day of sea kayaking is very normal. 
Your guide will call you the day before your tour to go over the details of your trip. We recommend being on the island the day before departure. This way you can meet up with your guide, get your dry bags, and go over the next day's itinerary, so you can come packed and ready to go the day of your tour. 
Stuart Island is one of the most northwestern islands in the San Juan archipelago and is only accessible by private boat or sea kayak. Stuart Island Marine Park is part of the Cascadia Marine Trail and has over 33,000 feet of shoreline to explore by foot and sea kayak. Stuart Island has great old-growth hiking trails and rocky shorelines for tide-pooling. Stuart Island Marine State Park offers an easy two-mile hike to the iconic Stuart Island Light Station on the northwestern most point of the island. This, along with Lovers Leap, is a favorite sunset viewpoint with sweeping views of the Canadian Gulf Islands. 
Best For: Experienced paddlers, or novice paddlers in good physical condition, outdoor enthusiasts or those new to outdoor activities who are up for an adventure. 
Jones Island State Park has great hiking and walking trails, rocky shorelines for tide-pooling, and epic views of the San Juans and sunset. Located to the east of San Juan Island, the paddle to Jones island is in the protected waters of San Juan Channel, making this crossing easier and shorter for novice paddlers. 
Best For: Novice Paddlers or Participants Seeking an Intermediate Tour Experience.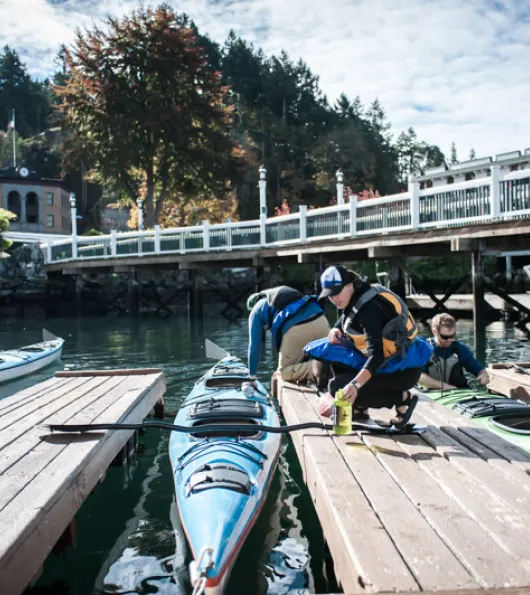 OUR GUIDES AND ATTENTION TO CUSTOMER SERVICE IS AMAZING
San Juan Island's Only All-Inclusive Multiday Tour
San Juan Outfitters provides top-of-the-line gear and fresh meals. All you need to pack is your personal clothing and toiletries, which we make easy with our packing checklist. All gear provided, from tents, to sleeping bags and pads, to camp pillows are provided and included from brands such as REI, Mountain Hardware, and MSR. All meals from lunch on day one through lunch on the final day are prepared fresh in the field by your guide. Dietary restrictions? No problem! We can accommodate most dietary restrictions including gluten- or lactose-free, vegetarian, and Kosher. We use local, organic, and fresh ingredients whenever possible and meals include menu items like breakfast hash and pasta primavera. All participants are required to complete and return their pre-trip questionnaires, which are used to get to know you a little better!