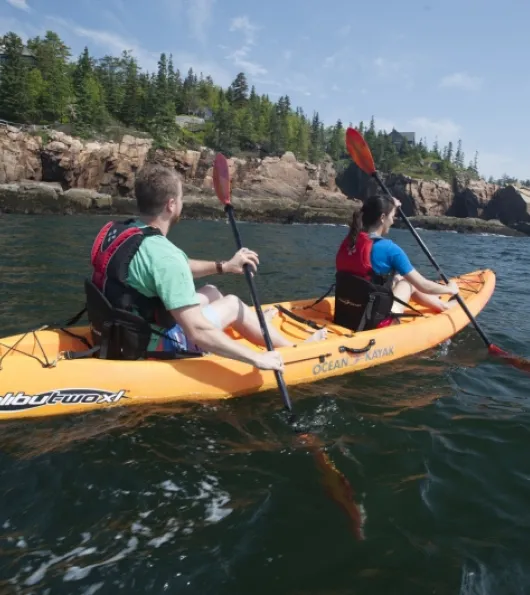 Explore the greater Roche Harbor waters
Take the Day at your Pace!
Rent sit-on-top kayaks from Roche Harbor and explore the greater Roche Harbor waters, which includes Westcott and Garrison Bays looking for sea stars and harbor seals. Sit-on-top kayaks are perfect for families, people with only an hour to spare, and paddlers of all abilities. 
Reservations are required and can be made 48 hours in advance at                                   1-800-450-6858 or 360-378-1323. 
Minimum 1-hour rental. Rent for 3 hours and get the 4th free!
Available mid-May to early September from 10 am - 5 pm (The last rental departs at 4 pm)
Single Sit-on-Top: $25/hour
Double Sit-on-Top: $30/hour
Contact Us For Reservations!
Need to kill an hour before our whale watch & wildlife tours by vessel? Have a child that is too young for our family-specific kayak tours? Already doing one of our guided wildlife tours by sea kayak and looking to do more paddling? Sit-on-tops were made for you!
Roche Harbor provides sheltered access to calm waters for our recreational kayaks. Sit-on-top kayaks are open-faced and self-bailing, so it is recommended you wear quick dry clothing as you will get wet. Any age is welcome on sit-on-top kayaks as long as the child is able to fit into a provided PFD. You are provided PFD, paddles, kayak, and a map.