West Side Killer Whale Sanctuary Tour
Primary tabs
West Side Killer Whale Sanctuary Tour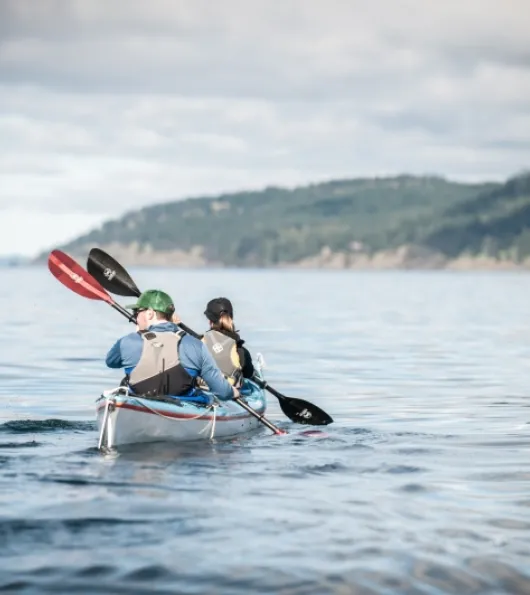 Only for a few!
Join This Premium Day Trip
Traversing through the proposed "Killer Whale Sanctuary" on the west side of San Juan Island, this tour is designed to maximize wildlife sightings, including the Southern Resident Killer Whale population that frequents these waters in the summer months. 
Because this primarily travels in known orca territory, it gives you some of the best chances to view orcas by kayak.  Our kayak guides communicate with our whale watch captains in real-time and know of any possible sightings within our sea kayak tour's range. Orca encounters by kayak are a once-in-a-lifetime experience and should be seen as such.  San Juan Outfitters gives you the best chances to view orcas by kayak, but it is important to remember orcas can travel up to 100 miles per day and over 30mph, and you will be paddling in a small section of their habitat. If your #1 goal is to encounter orcas during your San Juan Island adventure, also schedule a whale watch & wildlife tour by motorized vessel, either our Classic tour or our zodiac-style Adventure tour for a 90% or greater chance of seeing whales. 
San Juan Outfitters' Whale Sanctuary Tour is a premium day trip for guests with intermediate kayaking experience or who are physically fit. This sea kayak tour is the only day tour in the San Juan Islands that is point-to-point - so you never repeat any ground!
Our tour will begin either at Roche Harbor or San Juan County park, and finish at the other location, with our shuttle van providing transportation of guests and gear to and from San Juan County Park. This allows us to take advantage of the weather and currents, maximizes our chance to see wildlife, and means we don't have to retrace our steps—exploring new areas the entire tour.
This tour departs at 11 AM and returns at 4 PM, which means 4.75 hours are spent on the water, paddling anywhere from 10-15 miles. In order to have a great experience and paddle comfortably, this tour is limited to guests with intermediate kayaking experience, or physically fit guests who are comfortable on the water. Similar to a day hike, it is not uncommon to feel sore and/or fatigued after your tour. Lunch is not provided, so guests should pack a picnic lunch, snacks, and of course water bottles.
What to Bring & Wear: 
Light Clothing that dries quickly (avoid heavy cottons)
Comfortable Footwear (Sport Sandals w/ Heel ideal)
Sunglasses
Hat
Camera
Sunscreen
Bag Lunch
Snacks
Water bottle
Please no alcohol, tobacco, and marijuana.